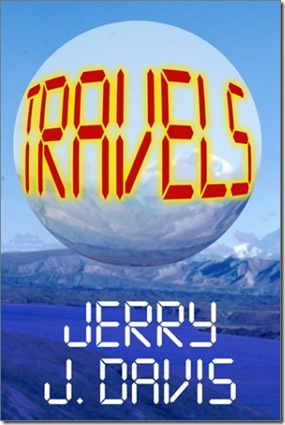 In a near future United States, where the subliminal power of television has been boosted to irresistible levels, Dodd Corely is a man increasingly at odds with the world. His live-in girlfriend, Sheila, is addicted to the popular "Travels" video drug.  His friend and fellow war veteran, Danny Marauder, has joined the Anarchists, a disreputable group dedicated to the overthrow of the established order. His best friend, Toby, is so busy watching Jesus TV that he fails to notice his own daughter is pregnant … a crime punishable by mandatory abortion and sterilization in this overpopulated society.  Meanwhile Jesus TV has just announced the greatest live special in television history:  the Second Coming of Jesus Christ.
It's becoming apparent to Dodd that the end of civilization as he knows it is at hand.  What isn't so apparent is how involved he's about to become in the end of it all.
Amazon Reviews:
"Davis skillfully crafts a satisfying novel that revives the style and quality of the masterworks for a new generation."
"…the novel is fast-paced, readable, and lucid. The end of the story offers hope for a world that has been too long dominated by the hopeless."
"In Travels, author Jerry J. Davis weaves a story every post-apocalyptic sci-fi lover is sure to enjoy. In the novel, we're presented with a future where religion and technology have morphed into something substantially more disturbing. We're also shown a future where humanity's predilection for escapism has reached a species-threatening level."
Get your eBook editions here:   Amazon Kindle  |  B&N Nook  |  and yes even on the Apple iBookstore
For those more traditional readers, get your print editions here:   Amazon.com  |  Barnes & Noble
Books by Jerry


Born a kitten but magically transformed to a human baby, Wellington had a hard time
growing up, and even harder
time fitting into society.



Seventeen year old Tom Harrison is lost in a weird world of bullies, horny MILFs, and someone who may or may not be an actual angel.



Join Jon August on his surprisingly dangerous search for the Holy Beer.



29 tales of weirdness
and wonder!



The antichrist is an AI
and the Second
Coming is on TV.