It's the end of the world … do you know where your beer is?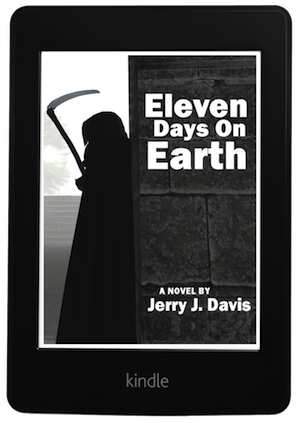 There's elephants with towering stilt legs, sheer cliffs tens-of-miles tall, and a bridge that crosses the vast expanse of the sky … but no beer. No freaking beer.
Jon August is fed up with that, and with the help of the crazy soul of Rasputin finds a way back to the land of the living — not as a ghost, but a living, breathing person again — put on the path by a goddess, and given a quest: Find the Holy Beer.
If he fails? She eats his soul.
Not cool.
Back in our world, things are not as they would seem. Two new goddesses have taken over from the old ones, the yin/yang of the modern age, and Jon has upset the precarious balance between the two. One goddess is overjoyed, and the other is outraged. No, she's more than outraged. She's pissed off. She's a goddess on a rampage. Luckily for Jon, her sister is in love with him.
Can Jon stay alive long enough to find the Holy Beer? And beyond that, can he save us all from the ultimate oblivion?
Find out in Eleven Days on Earth, only $14.99 in print, and $2.99 on the Amazon Kindle.
Kindle Edition - Only $2.99
Print Edition - Only $14.99
Books by Jerry


Born a kitten but magically transformed to a human baby, Wellington had a hard time
growing up, and even harder
time fitting into society.



Seventeen year old Tom Harrison is lost in a weird world of bullies, horny MILFs, and someone who may or may not be an actual angel.



Join Jon August on his surprisingly dangerous search for the Holy Beer.



29 tales of weirdness
and wonder!



The antichrist is an AI
and the Second
Coming is on TV.